Clan Information
Season & Weather
Greenleaf second moon (Summer, July)
After the rainy season of newleaf, the weather has turned eerily calm, with only the occasional cloud passing over the otherwise clear sky. The land is in full fruition: Plants a healthy green, herbs common as grasses, and prey constantly underfoot. The river has begun to return to its normal size, leaving a few uncommon remnants in the once flooded land.
The battle has ended and medicine cats from every Clan are frantically trying to tend to the injured. A group of rogues, lead by a cat who calls herself Onyx, has driven FireClan out of their camp and is gaining more support from other rogues by the hour.
DuskClan
Russetstar(@Skybreeze) - 8 lives
Deputies: Littleflower (@Daisyleap), Scorpionclaw (@Panthermask)
Medicine cats: Hollyshade(@Daisyleap), Coldfoot(@Leopardspots)
M/c apprentices: Spiderpaw(@Skybreeze),
Tulippaw (@Willowstorm)
FireClan
Redstar(@Daisyleap) - 8 lives
Deputies: Nightpelt(@Skybreeze), Sparkfeather(@Aquastar)
Medicine cats: Soraflight(@Leopardspots),
Mudstreak (@Aquastar)
M/c apprentices: Owlpaw (@Willowstorm), Flurrypaw (@Quake)
Notice: FireClan camp is temporarily located within FrostClan due to the rogue takeover.
WaterClan
Sandstar(@Aquastar) - 7 lives
Deputies: Turtlesplash(@Leopardspots), Nightfoot(@Daisyleap)
Medicine cats: Mistleleaf(@Willowstorm), Twistedleg(@Skybreeze)
M/c apprentices: Peachpaw(@Daisyleap), Sunpaw(@Flintbranch)
Notice: WaterClan's Camp is currently located in their Swampy Forest due to flooding.
BrightClan
Ivorystar(@Willowstorm) - 6 lives
Deputies: Lynxcloud(@Daisyleap), Skybreeze (@Skybreeze)
Medicine cats: Hazelflight(@Leopardspots)
, Seabreeze(@Wishflight)
M/c apprentices: Mistpaw(@Mistpool), Dawnpaw(@Panthermask)
FrostClan
Dapplestar(@Leopardspots) - 5 lives
Deputies: Cloverlily(@Daisyleap),
Thornsplash
(@Skybreeze)
Medicine cats: Ivyfeather(@Aquastar), Greytail(@Skybreeze)
M/c apprentices: Longpaw(@Daisyleap), Falconpaw(@Willowstorm)
Snailnose ~ 30 moons ~ WaterClan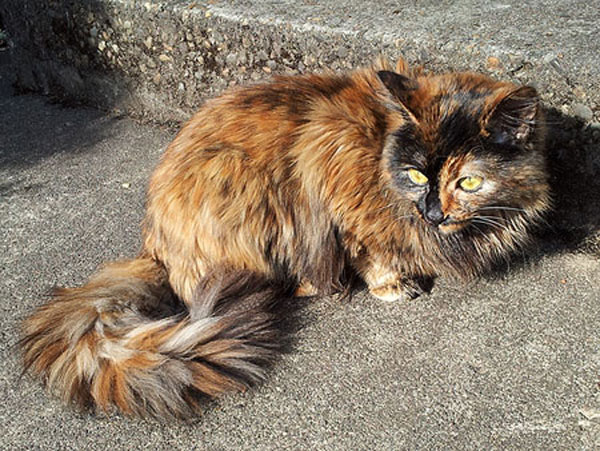 Snailnose is a long haired tortoiseshell she-cat with a giant, jet black spot on her nose. She has yellowish eyes and a pretty face. Her fur is long, soft, and well groomed. She is rather large, but not enormous, and her limb length balances out her appearance well. She has no scars.
Snailnose is happy, mellow, and polite. She acts, unsurprisingly, like a kitty-pet. She gets put down pretty easily, but rarely fights back if someone tries to argue with her. She usually tries to make everyone happy and befriend everyone, avoiding drama and sacrificing her own self-esteem to make sure cats get along. She's usually quite good at resolving conflict, and other times she ends up making thing much, much worse. She is always very concerned for Carrotspots, and often underestimates her younger sister's abilities. She is easily flustered and not very good at reacting to flirting. 
Skills
Fighting: 3/10, she wants to try but often doesn't take it seriously enough
Hunting: 6/10, not very practiced at it, but a good fisher
Running: 6/10, not particularly fast but has good stamina
Swimming: 8/10, not very fast, but quite skilled
Climbing: 5/10, she can but she's not very fast
Medicinal skills: 4/10, she taught herself the basics
Memory: 4/10, she tends to be kind of forgetful
Mate:
Seashell
Carrotspots ~ 26 moons ~ WaterClan



Carrotspots is a snort furred tortoiseshell she-cat with pale green eyes. Her pelt is mostly black with orange patches scattered over it like a garden patch with carrots and white paws. Her pelt is short and wiry, and sticks out in several places across her pelt. She is much smaller than her sister, but still has a rather well-balanced appearance, aside from knobbly knees. She has several scars across her messy pelt.

Carrotspots is very rude and outspoken. She tries to make herself look as tough and threatening as possible in every situation. She is very defensive of cats she cares about, and has very low self-worth, believing everyone else is far more important than herself. She is incredibly loyal to whoever she sets herself to. Carrotspots is rather hard to befriend, but once you're on her good side, she's a great friend to have.

Skills

Fighting: 8/10, (งಠ_ಠ)ง 

Hunting: 3/10, she's very reckless and impatient

Running: 5/10, she's better at fast sprints than true running

Swimming: 4/10, she's average at it and tends to panic in deep water

Climbing: 6/10, pretty good but always overestimates herself

Medicinal skill: 1/10, she doesn't give a mouse-tail about leaf nonsense

Memory: 5/10, watch your back she's a petty fox-heart and she will remember any insults

*shared*

Family

Mother: Dottie(open)

Fathers: Angus(Snail's, mine), Ginger(Carrot's, dead)

Siblings

Litter1: Snailnose, Ladybird(open if someone wants), Bee(open if someone wants)

Litter2: Carrotnose, Potato(dead), Sorrel(open if someone wants), Sprout(open if someone wants)

History

Snailnose was born as Snail to a she-cat named Dottie who lived in a garden near the twolegplace, along with her two litter-mates Ladybird and Bee. The father, some kittypet named Angus, occasionally visited, but it was mostly to check on them and be with Dottie rather than actually talk with the kits. Dottie had to do all of the food-gathering for herself and the kits on her own. Ginger, one of the other cats who lived in the garden, started helping them out and acting a little more fatherly to the kits than Angus did. One day, Dottie bore a second litter, this one belonging to Ginger. In the litter were Carrotspots, at the time Carrot, Potato, Sorrel, and Sprout. 

The group lived like a nice family for a while. One day, however, Potato was exploring the garden and mysteriously disappeared. Dottie was frantic, so they all went looking for him. They found Angus had the kit's crumpled body. He called Dottie treacherous and unfaithful, causing Ginger to attack him. After a quick fight, Angus won, killing Ginger and threatening to do the same to the rest of the kits if Dottie ever left him again. Begrudgingly, she agreed to stay with him in the twolegplace and left the kits.

Snail, Carrot, and the others left the garden behind and scattered. Most of the kits found twolegs to care for them, but Carrot said she wanted to find more cats, and Snail couldn't bear the thought of the kit wandering alone in such a hostile environment. They wandered around for a while, and Carrot quite constantly picked fights with random gangs and groups of cats, and Snail had to talk their way out of trouble. 

The two eventually found themselves in WaterClan territory after Carrot challenged a random she-cat across the river to a fight then almost drowned. She invited the two hungry looking cats to stay in WaterClan for a while. After helping out for a few moons, they asked to officially join the Clan. Sandstar, at the time a newly-appointed leader, agreed and gave them their warrior names. They've been with the Clan for 9 moons now.

Last edited by Leopardspots on Sun Feb 14, 2016 7:50 am; edited 2 times in total




- - - - - - - - - - - - - - - - - - - - - - - - - - - - - - - - - - - - - - - - - - - - - - - - - - - - - - - - - - - - - - - - - - -


DuskClan: Blueshine(elder), Coldfoot(medicine cat), Tawnysky, Dawnfire, Shadowblaze, Hawksky
FireClan: Soraflight(med. cat), Birchstripe, Robinpaw, Flamekit
WaterClan: Turtlesplash(deputy), Marshfeather, Snailnose, Carrotnose, Leopardpaw(mentor: Firepool), Willowpaw(mentor: Lostblaze), Spiderpaw(mentor: 
BrightClan: Hazelflight(med. cat) Petrelflight(app Snowpaw), Jasperheart(app Blizzardpaw), Riptidepaw(mentor:, Crabpaw(mentor: Snowyspirit) , Mothpaw(mentor:
FrostClan: Dapplestar, Hailstreak, Fennelstrike, Owlstripe, Crowsong
Other: Shard, Jingle, Angus, Dottie, Martenpaw, Percy, Raccoon
Just pointing out, you accidentally put "nose" at the end of Carrotspots name.

- - - - - - - - - - - - - - - - - - - - - - - - - - - - - - - - - - - - - - - - - - - - - - - - - - - - - - - - - - - - - - - - - - -
hello
my kitties <3:

DC: Robinblaze, Snakewhisker, Beetlestorm, Dovefrost,Leafshade, Bramblepaw, Shrewpaw, Magpiefur, Stormheart, Spiderpaw
FC: Nightpelt, Darkwillow, Dawnmist, Sunstep, Sootpatch, Snowfire,Flarepaw, Pinepaw, Rowankit, Spookkit, Cactus
WC: Lakemist, Twistedleg, Firepool, Turtlestone, Spottedface, Ebonyfur, Zebrapaw, Thunderpaw, Pigeonkit, Sandstone, Ambergaze, Shadowpaw, Windpaw, Tidekit, Rosewater
BC:Skybreeze, Eagleblaze, Foxdapple, Tigerpounce, Daisypaw, Nettlepaw, Ottersplash, Sparrowsong, Echokit, Fallenpaw, Jadepaw, Squirrelkit
FC: Graytail, Heatherglow, Silvertalon, Cloudmist,Dragonfang,Poppywind, Thornsplash, Freckledrose, Ripplefang, Creekpaw, Whitepaw
Audition Instructor





Posts

: 3660


Age

: 15


Location

: croatia ; europe



Could I snag Dottie or Ladybird?
- - - - - - - - - - - - - - - - - - - - - - - - - - - - - - - - - - - - - - - - - - - - - - - - - - - - - - - - - - - - - - - - - - -
Daisy's Cats:

Dusk-

Littleflower, Hollyshade, Blizzardtuft, Daisyleap, Grassflight, Creampaw

Fire- Redstar, Hawkstep, Stormwatcher, Pebblesplash, Lioncry, Flamepaw, Barley, Daffodilkit

Water- Nightfoot, Peachpaw, Salmonpelt, Seashell, Flowerbelly, Rosepaw, Poolglow, Shorekit

Bright- Lynxcloud, Oceanspark, Aurorashade, Galeheart, Scorpionbite, Sparrowbelly, Tornadopaw, Shimmerpaw, Tumblepaw, Lightningkit

Frost- Cloverlily, Longpaw, Scorchwind, Lunarshine, Ibispaw

RLK- Min, Peony, Indigo, Slash, Fleur, Blair, Tommy, Fjord, Scoop, Bellamy, Shark
Forum Overseer





Posts

: 5947


Age

: 17


Location

: DuskClan



Yeah either one
 and I still technically need this accepted so please daisy




- - - - - - - - - - - - - - - - - - - - - - - - - - - - - - - - - - - - - - - - - - - - - - - - - - - - - - - - - - - - - - - - - - -


DuskClan: Blueshine(elder), Coldfoot(medicine cat), Tawnysky, Dawnfire, Shadowblaze, Hawksky
FireClan: Soraflight(med. cat), Birchstripe, Robinpaw, Flamekit
WaterClan: Turtlesplash(deputy), Marshfeather, Snailnose, Carrotnose, Leopardpaw(mentor: Firepool), Willowpaw(mentor: Lostblaze), Spiderpaw(mentor: 
BrightClan: Hazelflight(med. cat) Petrelflight(app Snowpaw), Jasperheart(app Blizzardpaw), Riptidepaw(mentor:, Crabpaw(mentor: Snowyspirit) , Mothpaw(mentor:
FrostClan: Dapplestar, Hailstreak, Fennelstrike, Owlstripe, Crowsong
Other: Shard, Jingle, Angus, Dottie, Martenpaw, Percy, Raccoon
It's accepted but you wrote Carrotnose mate hahah
- - - - - - - - - - - - - - - - - - - - - - - - - - - - - - - - - - - - - - - - - - - - - - - - - - - - - - - - - - - - - - - - - - -
W I L L O W S T O R M
Kitties:

Dusk - Tulippaw(m), Stormpoppy, Riverswoop, Nightfrost, Rainpaw, Moonpaw, Brindlekit
Fire - Owlpaw(m) Acornwhisker, Ambershine, Clayfrost, Cloudpaw, Milkweed
Water - Mistleleaf(m) Rubblewind, Cedarhowl, Tanglewind, Quartzpaw, Carpkit, Mallowkit,
Bright - Ivorystar, Snowyspirit, Fawndapple, Bluedawn, Sleekfire, Wavespirit, Risingpaw, Ryepaw, Cherrywind(q), Flickerkit, Aspenflame(e)
Frost - Falconpaw(m), Foresthowl, Lynxfang, Echowing, Briarscorch, Clearpaw
Out of Clan
Onyx - Onyx(l), Frostbite
Nova - Nova(l), Velvet(q), Comet(k)
Fleur - Taz (m), Croissant, Cinnamon
Mochi - Alchemy(m), Karma
Flavia - Blink, Blade
Slash - Sven(cm), Aether
Obsidian - Obsidian(l), Veritas
Northern - Ariz
Loner - Seagull
Kittypet - Elli
Head Admin/Creator





Posts

: 15227


Age

: 18


Location

: Hobbiton! (Seriously, I live in New Zealand)



Thanks and how do you people notice these things




- - - - - - - - - - - - - - - - - - - - - - - - - - - - - - - - - - - - - - - - - - - - - - - - - - - - - - - - - - - - - - - - - - -


DuskClan: Blueshine(elder), Coldfoot(medicine cat), Tawnysky, Dawnfire, Shadowblaze, Hawksky
FireClan: Soraflight(med. cat), Birchstripe, Robinpaw, Flamekit
WaterClan: Turtlesplash(deputy), Marshfeather, Snailnose, Carrotnose, Leopardpaw(mentor: Firepool), Willowpaw(mentor: Lostblaze), Spiderpaw(mentor: 
BrightClan: Hazelflight(med. cat) Petrelflight(app Snowpaw), Jasperheart(app Blizzardpaw), Riptidepaw(mentor:, Crabpaw(mentor: Snowyspirit) , Mothpaw(mentor:
FrostClan: Dapplestar, Hailstreak, Fennelstrike, Owlstripe, Crowsong
Other: Shard, Jingle, Angus, Dottie, Martenpaw, Percy, Raccoon

Similar topics
---
Permissions in this forum:
You
cannot
reply to topics in this forum