Clan Information
Season & Weather
Greenleaf second moon (Summer, July)
After the rainy season of newleaf, the weather has turned eerily calm, with only the occasional cloud passing over the otherwise clear sky. The land is in full fruition: Plants a healthy green, herbs common as grasses, and prey constantly underfoot. The river has begun to return to its normal size, leaving a few uncommon remnants in the once flooded land.
The battle has ended and medicine cats from every Clan are frantically trying to tend to the injured. A group of rogues, lead by a cat who calls herself Onyx, has driven FireClan out of their camp and is gaining more support from other rogues by the hour.
DuskClan
Russetstar(@Skybreeze) - 8 lives
Deputies: Littleflower (@Daisyleap), Scorpionclaw (@Panthermask)
Medicine cats: Hollyshade(@Daisyleap), Coldfoot(@Leopardspots)
M/c apprentices: Spiderpaw(@Skybreeze),
Tulippaw (@Willowstorm)
FireClan
Redstar(@Daisyleap) - 8 lives
Deputies: Nightpelt(@Skybreeze), Sparkfeather(@Aquastar)
Medicine cats: Soraflight(@Leopardspots),
Mudstreak (@Aquastar)
M/c apprentices: Owlpaw (@Willowstorm), Flurrypaw (@Quake)
Notice: FireClan camp is temporarily located within FrostClan due to the rogue takeover.
WaterClan
Sandstar(@Aquastar) - 7 lives
Deputies: Turtlesplash(@Leopardspots), Nightfoot(@Daisyleap)
Medicine cats: Mistleleaf(@Willowstorm), Twistedleg(@Skybreeze)
M/c apprentices: Peachpaw(@Daisyleap), Sunpaw(@Flintbranch)
Notice: WaterClan's Camp is currently located in their Swampy Forest due to flooding.
BrightClan
Ivorystar(@Willowstorm) - 6 lives
Deputies: Lynxcloud(@Daisyleap), Skybreeze (@Skybreeze)
Medicine cats: Hazelflight(@Leopardspots)
, Seabreeze(@Wishflight)
M/c apprentices: Mistpaw(@Mistpool), Dawnpaw(@Panthermask)
FrostClan
Dapplestar(@Leopardspots) - 4 lives
Deputies: Cloverlily(@Daisyleap),
Thornsplash
(@Skybreeze)
Medicine cats: Ivyfeather(@Aquastar), Greytail(@Skybreeze)
M/c apprentices: Longpaw(@Daisyleap), Falconpaw(@Willowstorm)
Angus ~ 48 moons ~ kittypet
Angus is a handsome black and white tom with yellow eyes. He is a rather large tom, with sharp, powerful claws and broad shoulders. His fur is soft and well-groomed, and he has a rather well-fed appearance, which is common in kittypets. He towers over most ordinary cats and has a constant look of smug meanness written across his face, as though he's just won a battle without injury. He has one torn earn but is otherwise unmarked. His housefolk gave him a green collar.
Angus is smug and proud. He views himself as a tragic hero, who has finally defeated the enemy and gotten his reward from all his suffering, his beautiful mate Dottie. He is incredibly confident in his own opinions and abilities, and is quite battle-hungry. His proud nature leads to him getting into fights a lot. Angus always thinks he knows what's best for everyone and often completely ignores other cat's emotions. He hungers to join the forest cats, but is too reluctant to leave the comfort of his home. He does tell a lot of wild stories about his past to other cats, which are either exaggerated to fit his perspective or made up completely for the pleasure of lying.
Skills
Fight: 9/10, if he challenges you,
run
Hunting: 2/10, he doesn't need to hunt, and when he leaves his housefolk he can just get someone else to do it
Running: 4/10, he's not very in shape...
Swimming: 2/10, why would he need to swim?
Climbing: 5/10, for those trees and fences
Medicinal: 1/10, as if a cat as great as himself wouldn't get someone else to heal him
Memory: 5/10, average unless you've wronged him
History
Angus was born as a kittypet from a different area of the two-leg place. His housefolk moved into another area when he was around 12 moons old and none of the other cats knew him there. One gang tried to pick on him, but he beat up the leader, causing everyone to respect him. Cats started asking him about his past, and instead of telling the truth, he told them he used to live in the forest. He started copying stories told by old cats about Clans who lived in the wilderness nearby and passing it off as his own past. Soon everyone in the area knew about the kit whose parents were killed by an evil cat named Bloodclaws and how he chased his entire Clan away before finding a twoleg. There was one pretty she-cat who lived in a big garden who especially loved his stories. She wasn't a kittypet, she didn't have any twolegs caring for her, she hunted birds and rodents in the garden. He fell in love with her, her independence, her fascination with him, everything. They became mates, and remained that way for only a moon before became pregnant with a litter of kits.
Angus didn't want to help care for the kits. He didn't want kits, he just wanted his beautiful Dottie to himself. When the kits were born, he told her that if she wanted to stay with him, she'd have to get rid of the kits as soon as they could survive on their own. Dottie seemed to care more about the kits and became distant with him. At one point, she vanished entirely. He looked all over the garden, but couldn't find her or her kits. He lived in frustration and distress, searching for her for moons. One day, he finally found some evidence that she was around. A kit that clearly belonged to her and clearly didn't belong to him. In a fit of rage, he killed the kit and waited by the body for someone to come looking for him. Later that day, an entire family came looking for him. He saw Dottie and his kits, and some other tom with his kits. He threw insults at Dottie, and the other tom attacked him. After a brief battle, Angus won, and he threatened to kill every single one of the kits if Dottie didn't go with him back to his twoleg's nest. To save her kits, she went with him.
Family:
Mother: Celeste(unknown status)
Father: Borris(unknown status)
Littermates: Sadie(sister, unknown status) Tux(brother, unknown status)
Mate: Dottie(formerly)
Kits: Snailnose(mine), Ladybird(daisy's), Bee(open if someone wants)
Dottie ~ 44 moons ~ kittypet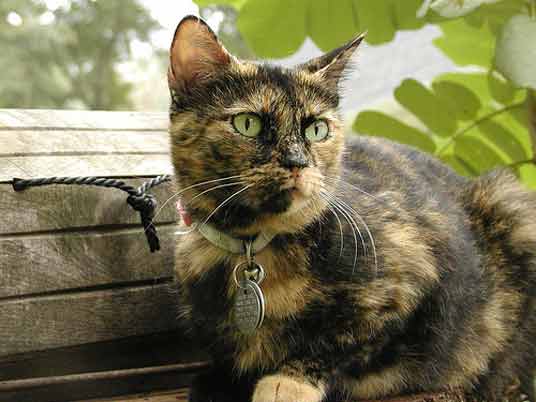 Dottie is a pretty tortoise-shell she-cat with emerald green eyes. Her pelt is mainly soft brown and dark grey dotted around, but she also has a sleek black tail. She is is rather small and well-built. She is well-fed since she is a kittypet, but is otherwise pretty lean. She has distinctively small paws. Her housefolk make her wear a pale-green collar.

Dottie is a timid, shy cat. She is filled with wonder and hope, and loves telling and hearing stories. She loves drama and tends to romanticize things in her life, which led to her current situation. She used to be adventurous and over tangling with danger, but now she's just tired and scared. She feels trapped in the twolegplace by her former mate, and frustrated that she doesn't know what happened to her kits. She used to be madly in love with Angus and love the thrill of being with him, but grew to realize that he was cruel and selfish and tried to get rid of him. She misses her friend and former mate Ginger horribly, but is scared to admit it. She isn't the most sociable of cats, but never causes conflict.

Skills

Fighting: 3/10, why would she want to hurt anyone?

Hunting: 7/10, she had to feed herself and her kits before

Running: 4/10, average but she's short legged and out of shape

Swimming: 4/10, she hates water but can swim

Climbing: 5/10, average

Medicinal: 3/10, she knows a bit about coughs but that's about it

Memory: 5/10, her head is full of feather-brained stories

History

Dottie was born to a kittypet. She spent a few moons playing with her siblings, but eventually got sent to some other twolegs. She hated being trapped inside, so she ran away and found a big garden. She decided to live there, as there was a lot of prey and it was pretty. One day, a kittypet wandered into her den. She wanted to chase him off at first, but he didn't seem to respond to her threats. She asked him what he was doing and he told her that he was searching for a dangerous rogue he had seen nearby. Intrigued, Dottie listened to his stories and was fascinated by his tales of woodland cats and fiendish villains. 

The two continued to meet nearly every day and go on adventures through the garden and twolegplace. Dottie eventually became pregnant with a litter, and was excited to have kits. Angus seemed less excited about them for some reason. When they were born, he told her she had to get rid of them as soon as they were old enough to fend for themselves. Dottie was alright at hunting, but on her own she found it difficult to scrap enough for her and her kits. One day, she met a nice tom named Ginger who offered to help her hunt and raise the kits. Ginger ended up being a lot more helpful than Angus, as well as nicer and more interested in other's emotions. The two slowly fell in love, and Dottie decided to stop seeing Angus all together and live with Ginger. They went to live in another area of the garden to throw Angus off, and she became pregnant with Ginger's kits after a while. She was happy to finally have a family.

One day, one of her kits, Potato, went missing. She became frantic, as he was not one to wander off. The whole family went looking for him. Eventually, they found Angus next to his lifeless body. Angus spat insults and threats at her, and Ginger, engulfed with rage, attacked Angus. After a brief battle, Ginger was dead. Angus threatened to kill every single one of them if Dottie didn't go with him. Dottie, scared and heartbroken, agreed for the sake of her kits. Since then, she's lived reluctantly with Angus and his housefolk, afraid of what he'd do if she left.

Family:

Mother: Lexy(status unknown)

Father: Travis(status unknown)

Littermates: Trowel(brother), Quilt(sister), Mary Anne(sister)

Mate: Angus (formerly)

Kits: Snailnose(mine), Ladybird(Daisy), Bee(open if someone wants)

Mate: Ginger(dead)

Kits: Carrotspots(mine), Potato(dead), Sorrel(open if someone wants), Sprout(open if someone wants)




- - - - - - - - - - - - - - - - - - - - - - - - - - - - - - - - - - - - - - - - - - - - - - - - - - - - - - - - - - - - - - - - - - -


DuskClan: Blueshine(elder), Coldfoot(medicine cat), Tawnysky, Dawnfire, Shadowblaze, Hawksky
FireClan: Soraflight(med. cat), Birchstripe, Robinpaw, Flamekit
WaterClan: Turtlesplash(deputy), Marshfeather, Snailnose, Carrotnose, Leopardpaw(mentor: Firepool), Willowpaw(mentor: Lostblaze), Spiderpaw(mentor: 
BrightClan: Hazelflight(med. cat) Petrelflight(app Snowpaw), Jasperheart(app Blizzardpaw), Riptidepaw(mentor:, Crabpaw(mentor: Snowyspirit) , Mothpaw(mentor:
FrostClan: Dapplestar, Hailstreak, Fennelstrike, Owlstripe, Crowsong
Other: Shard, Jingle, Angus, Dottie, Martenpaw, Percy, Raccoon

update ur signature...........slime man
Forum Storyteller





Posts

: 6901


Age

: 16






- - - - - - - - - - - - - - - - - - - - - - - - - - - - - - - - - - - - - - - - - - - - - - - - - - - - - - - - - - - - - - - - - - -


DuskClan: Blueshine(elder), Coldfoot(medicine cat), Tawnysky, Dawnfire, Shadowblaze, Hawksky
FireClan: Soraflight(med. cat), Birchstripe, Robinpaw, Flamekit
WaterClan: Turtlesplash(deputy), Marshfeather, Snailnose, Carrotnose, Leopardpaw(mentor: Firepool), Willowpaw(mentor: Lostblaze), Spiderpaw(mentor: 
BrightClan: Hazelflight(med. cat) Petrelflight(app Snowpaw), Jasperheart(app Blizzardpaw), Riptidepaw(mentor:, Crabpaw(mentor: Snowyspirit) , Mothpaw(mentor:
FrostClan: Dapplestar, Hailstreak, Fennelstrike, Owlstripe, Crowsong
Other: Shard, Jingle, Angus, Dottie, Martenpaw, Percy, Raccoon

update ur signature...........slime man
Forum Storyteller





Posts

: 6901


Age

: 16




- - - - - - - - - - - - - - - - - - - - - - - - - - - - - - - - - - - - - - - - - - - - - - - - - - - - - - - - - - - - - - - - - - -
W I L L O W S T O R M
Kitties:

Dusk - Tulippaw(m), Stormpoppy, Riverswoop, Nightfrost, Rainpaw, Moonpaw, Brindlekit, Eveningkit
Fire - Owlpaw(m) Acornwhisker, Ambershine, Clayfrost, Cloudpaw, Milkweed
Water - Mistleleaf(m) Rubblewind, Cedarhowl, Silverdawn, Snowlily, Tanglewind, Quartzpaw, Poolglow, Carpkit, Mallowkit
Bright - Ivorystar, Snowyspirit, Fawndapple, Bluedawn, Sleekfire, Wavespirit, Risingpaw, Ryepaw, Cherrywind(q), Flickerkit, Aspenflame(e)
Frost - Falconpaw(m), Foresthowl, Lynxfang, Echowing, Briarscorch, Clearpaw, Emberpaw
Out of Clan
Onyx - Onyx(l), Frostbite
Nova - Nova(l), Velvet(q), Comet(k)
Fleur - Taz (m), Croissant, Cinnamon
Mochi - Alchemy(m), Karma
Flavia - Blink, Blade
Slash - Sven(cm), Aether
Obsidian - Obsidian(l), Veritas
Northern - Ariz
Loner - Seagull
Kittypet - Elli
Head Admin/Creator





Posts

: 15299


Age

: 18


Location

: Hobbiton! (Seriously, I live in New Zealand)




Similar topics
---
Permissions in this forum:
You
cannot
reply to topics in this forum