Clan Information
Season & Weather
Greenleaf second moon (Summer, July)
After the rainy season of newleaf, the weather has turned eerily calm, with only the occasional cloud passing over the otherwise clear sky. The land is in full fruition: Plants a healthy green, herbs common as grasses, and prey constantly underfoot. The river has begun to return to its normal size, leaving a few uncommon remnants in the once flooded land.
The battle has ended and medicine cats from every Clan are frantically trying to tend to the injured. A group of rogues, lead by a cat who calls herself Onyx, has driven FireClan out of their camp and is gaining more support from other rogues by the hour.
DuskClan
Russetstar(@Skybreeze) - 8 lives
Deputies: Littleflower (@Daisyleap), Scorpionclaw (@Panthermask)
Medicine cats: Hollyshade(@Daisyleap), Coldfoot(@Leopardspots)
M/c apprentices: Spiderpaw(@Skybreeze),
Tulippaw (@Willowstorm)
FireClan
Redstar(@Daisyleap) - 8 lives
Deputies: Nightpelt(@Skybreeze), Sparkfeather(@Aquastar)
Medicine cats: Soraflight(@Leopardspots),
Mudstreak (@Aquastar)
M/c apprentices: Owlpaw (@Willowstorm), Flurrypaw (@Quake)
Notice: FireClan camp is temporarily located within FrostClan due to the rogue takeover.
WaterClan
Sandstar(@Aquastar) - 7 lives
Deputies: Turtlesplash(@Leopardspots), Nightfoot(@Daisyleap)
Medicine cats: Mistleleaf(@Willowstorm), Twistedleg(@Skybreeze)
M/c apprentices: Peachpaw(@Daisyleap), Sunpaw(@Flintbranch)
Notice: WaterClan's Camp is currently located in their Swampy Forest due to flooding.
BrightClan
Ivorystar(@Willowstorm) - 6 lives
Deputies: Lynxcloud(@Daisyleap), Skybreeze (@Skybreeze)
Medicine cats: Hazelflight(@Leopardspots)
, Seabreeze(@Wishflight)
M/c apprentices: Mistpaw(@Mistpool), Dawnpaw(@Panthermask)
FrostClan
Dapplestar(@Leopardspots) - 4 lives
Deputies: Cloverlily(@Daisyleap),
Thornsplash
(@Skybreeze)
Medicine cats: Ivyfeather(@Aquastar), Greytail(@Skybreeze)
M/c apprentices: Longpaw(@Daisyleap), Falconpaw(@Willowstorm)
Laurelleaf ~ Minkura ~ 31 moons ~ rogue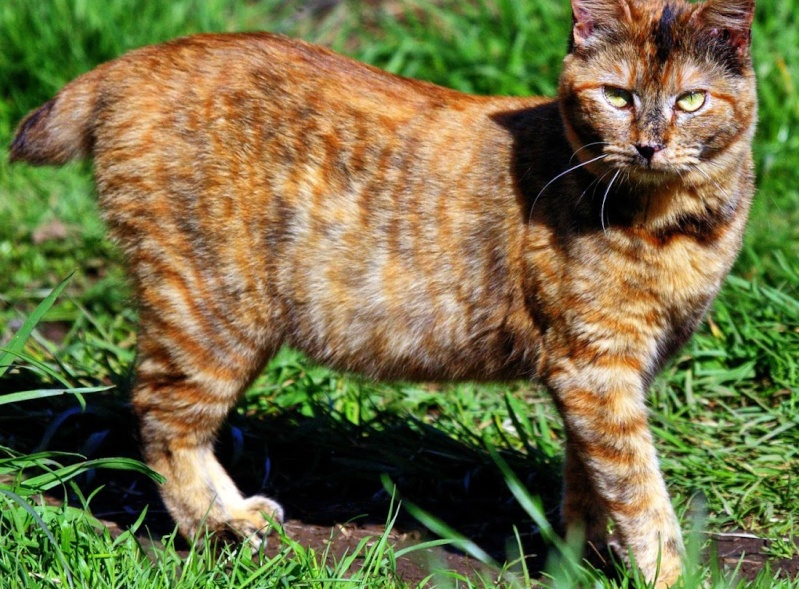 Minkura is a sleek, slender brindled she-cat with vivid grass green eyes. She has a small, round head and face in general, and her long tail and black claws may seem a little intimidating. At first glance she looks like a harmless kit, but don't underestimate this she-cat; she kills everything in her path.
Minkura is a very social and energetic cat in all, but also very sarcastic. She often pretends she is a helpless kit when trespassing on territories just to chuckle at the Clan cats. With her long, slender limbs, she can reach far places in just a few heartbeats. She enjoys tricking Clan cats or kittypets that live around the area that she claimed is hers, but she often uses her charming skills to lure innocent cats into her death trap, or if they're trustworthy enough, right into the group. She's much more of a leader than Shard, and often butts in with her own plans, but they know she means well. Minkura lies a lot, and she is very impatient. All in all, though, Minkura is a good cat... between her group.
Skills
Fighting 10/10 (perfect)
Hunting 5/10 (it's okay, she's more into fighting)
Swimming 1/10 (ugh, water? she'll do it if she has to, but definietly not for fun)
Climbing 1/10 (her claws may be sharp, but she's afraid of very high heights)
Running 8/10 (she's very fast and can get far in a few heartbeats)
Medicinal lore 4/10 (it's okay, she knows a few like comfrey and yarrow)
Memory 9/10 (she has a photographic memory of literally everything and everyone)
Family
Mother:
Periwinkle
Father:
 Ashstrike
Sister:
Snowtail
Mate:
 Deadpool, former
Kits:
Tunnelpaw, Fluffpaw,
Groundkit
History
Minkura was born to Periwinkle, a kittypet, and Ashstrike, a DuskClan warrior, on a baking hot greenleaf day with her sister, Pansy. She was a sweet, innocent little kit, until Twolegs began tearing down her Twoleg home, giving Minkura & Pansy many scars along their backs and stomach and crushing their mother under a shining silver monster that tore up the place fully. Minkura and Pansy decided to wander off to DuskClan to live with their father, Ashstrike, and were rewarded the names Laurelpaw and Snowpaw, two young apprentices of DuskClan. Laurelpaw had always hated Snowpaw from the start, and when she got into an accident with a FrostClan border patrol and had to stay in the medicine den for 3 more moons and Snowpaw moved on to become Snowtail, she was furious. Snowtail was always such a show-off, and when she finally became Laurelleaf, she joined SunClan, while her wimpy father Ashstrike and coward sister Snowtail joined MoonClan, against Viperstar. Laurelleaf spent many moons as Viperstar's assisant, carrying out killing tasks and more. Laurelleaf met a former WaterClan warrior in DuskClan and instantly fell in love. When they mated and had three kittens, Laurelleaf regretted it all and broke up with Deadpool. She was sent on a killing task once again by Viperstar to kill her kits, but Ashstrike saved Tunnelkit and Fluffkit, while Laurelleaf took Groundkit's life in one blow. Snowtail soon helped defeat and kill Viperstar, and, furious enough, Laurelleaf secretly attacked Snowtail on a two-cat hunt and killed her. Soon after that, Laurelleaf changed her name back to Minkura and met Jingle and Shard, two cats who planned to destroy the Clans. She travelled with them long and short, far and close, until they reached the Twolegplace where Minkura was born. They had rebuilt it, the Twolegs, and the three soon started a secret rogue spy group, where Minkura, as done with Viperstar, had to take out most tasks for Jingle and Shard. Soon, more cats came into the group, and Minkura currently lives her life in her old Twoleg nest most of the time, when she's not catching prey and putting it on BrightClan's territory.
- - - - - - - - - - - - - - - - - - - - - - - - - - - - - - - - - - - - - - - - - - - - - - - - - - - - - - - - - - - - - - - - - - -
Daisy's Cats:

Dusk-

Littleflower, Hollyshade, Blizzardtuft, Daisyleap, Grassflight, Creampaw

Fire- Redstar, Hawkstep, Stormwatcher, Pebblesplash, Flamepaw, Adderpaw, Barley, Daffodilkit

Water- Nightfoot, Peachcloud, Salmonpelt, Seashell, Flowerbelly, Rosepaw, Shorekit

Bright- Lynxcloud, Oceanspark, Aurorashade, Scorpionbite, Sparrowbelly, Shimmerpaw, Tumblepaw

Frost- Cloverlily, Longpaw, Silverhawk, Scorchwind, Lunarshine, Wrenpaw, Sleetpaw, Ibispaw, Shellkit

RLK- Min, Peony, Indigo, Slash, Fleur, Blair, Tommy, Bellamy, Shark, Moon
Forum Overseer





Posts

: 6042


Age

: 17


Location

: DuskClan



*Updateud, finished!*
|
|
- - - - - - - - - - - - - - - - - - - - - - - - - - - - - - - - - - - - - - - - - - - - - - - - - - - - - - - - - - - - - - - - - - -
Daisy's Cats:

Dusk-

Littleflower, Hollyshade, Blizzardtuft, Daisyleap, Grassflight, Creampaw

Fire- Redstar, Hawkstep, Stormwatcher, Pebblesplash, Flamepaw, Adderpaw, Barley, Daffodilkit

Water- Nightfoot, Peachcloud, Salmonpelt, Seashell, Flowerbelly, Rosepaw, Shorekit

Bright- Lynxcloud, Oceanspark, Aurorashade, Scorpionbite, Sparrowbelly, Shimmerpaw, Tumblepaw

Frost- Cloverlily, Longpaw, Silverhawk, Scorchwind, Lunarshine, Wrenpaw, Sleetpaw, Ibispaw, Shellkit

RLK- Min, Peony, Indigo, Slash, Fleur, Blair, Tommy, Bellamy, Shark, Moon
Forum Overseer





Posts

: 6042


Age

: 17


Location

: DuskClan




Similar topics
---
Permissions in this forum:
You
cannot
reply to topics in this forum