credit to daisyleap and quake for the overall idea; do not steal or reproduce in any way
---
How do the powers work?
Each Dangerous Seven can have three powers maximum. But they can't all be extremely powerful, like teleportation, mind-reading, and shapeshifting into a deathly tiger.
Each Dangerous Seven can have a positive power, which is their most used power and most powerful (ex, minor telekinesis, minor shapeshifting (maximum forms to shapeshift are 4), etc), a neutral power, which is basically just an element (ex, shooting water out of their wrists, creating a strong gust of wind, summoning a fireball into their hands, etc), and a negative power, which is a power that is barely useful or has huge consequences to their body if they ever use them (ex, invisibility but every time you do it you slowly fade into nonexistence, etc).
What powers are acceptable?
Any powers are acceptable as long as you take them into consideration, but if you have any questions don't be afraid to PM me (Daisyleap)!
- - - - - - - - - - - - - - - - - - - - - - - - - - - - - - - - - - - - - - - - - - - - - - - - - - - - - - - - - - - - - - - - - - -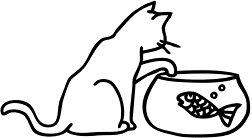 Daisy's Cats:

Dusk-

Littleflower, Hollyshade, Blizzardtuft, Daisyleap, Gingerpatch, Grassflight, Creamtuft

Fire- Redstar, Hawkstep, Stormwatcher, Pebblesplash, Flamefoot, Adderfang, Barley, Daffodilkit, Ivykit

Water- Nightfoot, Peachcloud, Salmonpelt, Seashell, Flowerbelly, Rosepaw, Shorepaw

Bright- Lynxcloud, Oceanspark, Aurorashade, Mistyheart, Scorpionbite, Sparrowbelly, Shimmerpaw, Tumblepaw

Frost- Cloverlily, Longpaw, Scorchwind, Lunarshine, Wrenpaw, Sleetpaw, Ibispaw

RLK- Min, Peony, Indigo, Slash, Fleur, Blair, Tommy, Bellamy, Shark, Moon, Ryu, Beryllium

Daisyleap

Forum Overseer





Posts

: 6638


Age

: 19


Location

: DuskClan



Similar topics
---
Permissions in this forum:
You
cannot
reply to topics in this forum