Clan Information
Season & Weather
Greenleaf second moon (Summer, July)
After the rainy season of newleaf, the weather has turned eerily calm, with only the occasional cloud passing over the otherwise clear sky. The land is in full fruition: Plants a healthy green, herbs common as grasses, and prey constantly underfoot. The river has begun to return to its normal size, leaving a few uncommon remnants in the once flooded land.
The battle has ended and medicine cats from every Clan are frantically trying to tend to the injured. A group of rogues, lead by a cat who calls herself Onyx, has driven FireClan out of their camp and is gaining more support from other rogues by the hour.
DuskClan
Russetstar(@Skybreeze) - 8 lives
Deputies: Littleflower (@Daisyleap), Scorpionclaw (@Panthermask)
Medicine cats: Hollyshade(@Daisyleap), Coldfoot(@Leopardspots)
M/c apprentices: Spiderpaw(@Skybreeze),
Tulippaw (@Willowstorm)
FireClan
Redstar(@Daisyleap) - 8 lives
Deputies: Nightpelt(@Skybreeze), Sparkfeather(@Aquastar)
Medicine cats: Soraflight(@Leopardspots),
Mudstreak (@Aquastar)
M/c apprentices: Owlpaw (@Willowstorm), Flurrypaw (@Quake)
Notice: FireClan camp is temporarily located within FrostClan due to the rogue takeover.
WaterClan
Sandstar(@Aquastar) - 7 lives
Deputies: Turtlesplash(@Leopardspots), Nightfoot(@Daisyleap)
Medicine cats: Mistleleaf(@Willowstorm), Twistedleg(@Skybreeze)
M/c apprentices: Peachpaw(@Daisyleap), Sunpaw(@Flintbranch)
Notice: WaterClan's Camp is currently located in their Swampy Forest due to flooding.
BrightClan
Ivorystar(@Willowstorm) - 6 lives
Deputies: Lynxcloud(@Daisyleap), Skybreeze (@Skybreeze)
Medicine cats: Hazelflight(@Leopardspots)
, Seabreeze(@Wishflight)
M/c apprentices: Mistpaw(@Mistpool), Dawnpaw(@Panthermask)
FrostClan
Dapplestar(@Leopardspots) - 4 lives
Deputies: Cloverlily(@Daisyleap),
Thornsplash
(@Skybreeze)
Medicine cats: Ivyfeather(@Aquastar), Greytail(@Skybreeze)
M/c apprentices: Longpaw(@Daisyleap), Falconpaw(@Willowstorm)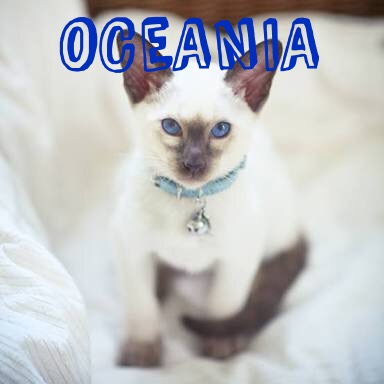 .: Oceanina :.
"Angel, tell me about my mother"
_________________________________________________
b a s i c s
name ; Oceania
age ; 12 moons
gender ; She-cat
clan ; N/A ~ Lunar Moons group
rank ; Medicine cat
description ; Oceania looks like a Siamese cat, but she really isn't. She must have some Siamese blood in her. She is pure white with brown nose, ears, legs and tail. She has blue eyes and really fluffy fur.
skills ; out of ten
Fighting - 2
Hunting - 1
Climbing - 7
Running - 9
Swimming - 2
Strength - 3
Memory skills - 10 (SHES A MEDICINE CAT)
Stamina - 8
_________________________________________________
b e h i n d t h e c a t
personality ; Oceania is a easy trusting and kind cat. She trusts others easily but she hates it when cats betray her. She hates fighting and never practices it because she doesn't want to see another cat get hurt because of her. She is loyal and will heal any cat, even the enemy.
history ; Oceania
was born to Poppy and Flame, Two Loners. She had one sister and two brothers. When she was about 1 Moon his mother left for the clans and took one of her brothers and her sister. Flame asked his sister angel if she could nurse his kits and she said yes. When she Became 10 Moons, A friend of flames said that her friend had started a rogue group. Flame and Angel thought it was the best idea for the kits. They Left and met lunar Moon. Oceania tried to train as a warrior before finding out she couldn't do it. So she asked the leader if she could study medicine. The group didn't have a medicine cat, so she said yes and with the help of several other cats, Oceania learnt.
_________________________________________________
r o m a n t i c s
crush ; N/A
mate ; N/A
kits ; N/A
kin ; Kin can be found here
_________________________________________________
m i s c.
sexuality ; Straight
Favourite Prey ; Shrew
Favourite Season ; New Leaf
Favourite scent ; Her Brother
Zodiac ;

 Unknown
________________________
Last edited by Emberlily on Sun Apr 09, 2017 5:28 pm; edited 1 time in total
- - - - - - - - - - - - - - - - - - - - - - - - - - - - - - - - - - - - - - - - - - - - - - - - - - - - - - - - - - - - - - - - - - -
Beautiful signiture picture made by Rubymist!
Ridiculously Awesome Supporter





Posts

: 2598


Age

: 13


Location

: Probally on Berdi island protecting the pokemon from Team Skull and Team Rocket.



- - - - - - - - - - - - - - - - - - - - - - - - - - - - - - - - - - - - - - - - - - - - - - - - - - - - - - - - - - - - - - - - - - -


https://www.youtube.com/watch?v=lqwXVOO0gl0 - for putting down pineapples with some random yodelling
https://www.youtube.com/watch?v=fNmb_hlMfGE - for eating egg rolls in a terrifying voice that's out of key
Audition Instructor





Posts

: 5667


Age

: 14


Location

: playing my phone and bouncing on bananas and becoming high off pancakes



---
Permissions in this forum:
You
cannot
reply to topics in this forum