Clan Information
Season & Weather
Greenleaf second moon (Summer, July)
After the rainy season of newleaf, the weather has turned eerily calm, with only the occasional cloud passing over the otherwise clear sky. The land is in full fruition: Plants a healthy green, herbs common as grasses, and prey constantly underfoot. The river has begun to return to its normal size, leaving a few uncommon remnants in the once flooded land.
The battle has ended and medicine cats from every Clan are frantically trying to tend to the injured. A group of rogues, lead by a cat who calls herself Onyx, has driven FireClan out of their camp and is gaining more support from other rogues by the hour.
DuskClan
Russetstar(@Skybreeze) - 8 lives
Deputies: Littleflower (@Daisyleap), Scorpionclaw (@Panthermask)
Medicine cats: Hollyshade(@Daisyleap), Coldfoot(@Leopardspots)
M/c apprentices: Spiderpaw(@Skybreeze),
Tulippaw (@Willowstorm)
FireClan
Redstar(@Daisyleap) - 8 lives
Deputies: Nightpelt(@Skybreeze), Sparkfeather(@Aquastar)
Medicine cats: Soraflight(@Leopardspots),
Mudstreak (@Aquastar)
M/c apprentices: Owlpaw (@Willowstorm), Flurrypaw (@Quake)
Notice: FireClan camp is temporarily located within FrostClan due to the rogue takeover.
WaterClan
Sandstar(@Aquastar) - 7 lives
Deputies: Turtlesplash(@Leopardspots), Nightfoot(@Daisyleap)
Medicine cats: Mistleleaf(@Willowstorm), Twistedleg(@Skybreeze)
M/c apprentices: Peachpaw(@Daisyleap), Sunpaw(@Flintbranch)
Notice: WaterClan's Camp is currently located in their Swampy Forest due to flooding.
BrightClan
Ivorystar(@Willowstorm) - 6 lives
Deputies: Lynxcloud(@Daisyleap), Skybreeze (@Skybreeze)
Medicine cats: Hazelflight(@Leopardspots)
, Seabreeze(@Wishflight)
M/c apprentices: Mistpaw(@Mistpool), Dawnpaw(@Panthermask)
FrostClan
Dapplestar(@Leopardspots) - 4 lives
Deputies: Cloverlily(@Daisyleap),
Thornsplash
(@Skybreeze)
Medicine cats: Ivyfeather(@Aquastar), Greytail(@Skybreeze)
M/c apprentices: Longpaw(@Daisyleap), Falconpaw(@Willowstorm)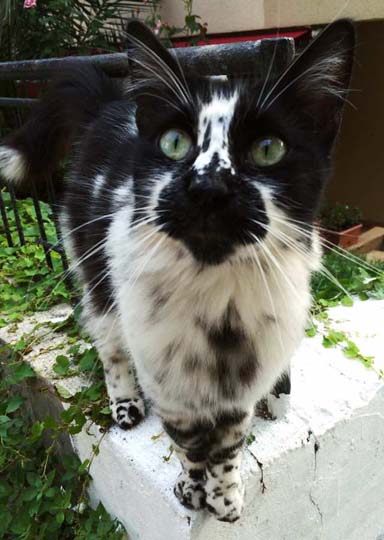 Name:
Quill
Quillheart (When she later on joins the clans)
Appearance:
Quill is a slender, black, white, and grey speckled shecat with a black tail that has a white tip, a white underbelly and green eyes.
Personality:
 Quill comes off as hostile and rude when around new cats, but once you get past that she's a humorous, kind, and loving shecat. She's quite impatient and will often snap if something is taking too long. *Fun fact: Rowanpool calls her temper, her Fluffy Rage because all of her fur puffs out.* When it comes to cats she can't stand, she'll act all sweet until given the opportunity to be a complete bitch to them.  
Skills:
Family:
Mother- Rinya (Kittypet, Open)
Father- Coyote (Loner, Open)
Littermates/siblings- Crone (Tom, rogue)
History:
   Quill was born to a kittypet named Rinya and a loner named Coyote. Her father split with her older brother Crone a moon after she was born, leaving her with her mother. Once she was old enough, her mother's twolegs sold her to another couple. She adjusted to her new home quickly and when she was a year old, a tom was brought into the house by the twoleg kit. At first, Quill despised the tom, and it only worsened when he flirted with her constantly. Even after being released, the tom, who she learned was named Rowanpool, would pay her visits, bringing her gifts in the form of prey. 
Slowly but surely, the two grew close and soon enough they were mates expecting a litter of kits. When the kits were born, she and Rowanpool named them Storm and Lily.
Name:
Lily
Lily
kit
Lilypaw
Lilywind
Clan:
None (will be Bright)
Mentor or apprentice: 
Appearance:
Lily is a small, black and white speckled shecat with eyes that look green without light but ice blue in the sun.
Personality:
 Lily is a sarcastic, blunt, brutally honest, shecat. But she's loyal to the bone and fiercely protective. Even if she comes off as a bitch at first, she eventually warms up to other cats. She's playful but sometimes she takes it too far and ends up hurting others. If she does hurt them, she'll distance herself while thinking they now hate her. Only them telling her otherwise will get her to forgive herself.
Skills:
Family:
Littermates/siblings- Storm
History:
   Lily was born to the kittypet Quill and the warrior Rowanpool. She and her brother have been living with her mother and her mother's twolegs since birth.
Name:
Storm
Tornkit
Tornpaw
Smokeblaze
Clan:
None (will be Bright)
Mentor or apprentice: 
Appearance:
Storm is a black and grey tom with an all black tail and black ears. His form is muscular and his eyes are a deep amber.
Personality:
 Storm is a kind, generous, and loving tom with a hate for violence. Unfortunately, he inherited his father's impatience and will get snappy if some cat is taking way too long to do a simple task. He's shy and antisocial, which gives off the image that he thinks he's better than others so he won't socialize. This is not the case, he's just too scared to introduce himself.
Skills:
Family:
Littermates/siblings- Lily
History:
 Storm was born to the kittypet Quill and the warrior Rowanpool. He and his sister have been living with his mother and his mother's twolegs since birth.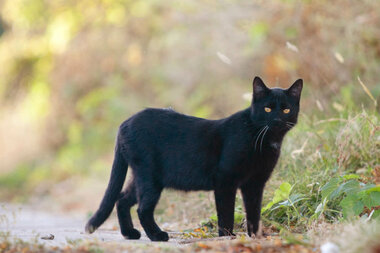 Appearance:
Crone has an ebony colored pelt with a grey patch on his chest and a grey tail tip. He's a muscular, broad shouldered tom with thick fur and amber eyes.
Personality:
 Crone is an outgoing and flirtatious tom with the habit of getting himself into trouble and flirting his way out of it. He's highly intelligent but he has a tendency to not think things through completely before charging head on into a situation. He can be either very kind, or the most unpleasant cat you've ever met, there is no in between with him.
Skills:
Family:
Littermates/siblings- Quill (shecat, kittypet)
History:
   Crone was born to Rinya and Coyote, a kittypet and a loner. He and his father stayed with his mother for a short amount of time, in which he met his sister Quill when she was still fairly young. They left soon though, and joined a group of rogues. Until he was 16 moons, Crone stayed with the group, but decided it wasn't for him. 
He simply wandered from place to place until he was 21 moons. That was when he met the sassy, sandy colored tabby who wanted to kill him at first. He flirted with her and convinced her to let him go, which she did as long as he promised not to enter the clan's territory again. He gladly agreed, but still managed to meet up with the shecat "coincidentally" whenever she was hunting alone. After awhile, he developed deep feelings for the shecat, who he learned was named Aspenflake. It took longer for her to accept him, but she eventually did. Not long after, the pair became mates and Crone joined up with Onyx's group of rogues.
Appearance:
Dango is a lanky, slender, ginger tabby tom with light amber eyes. He's long legged, has thick fur, and scars that crisscross along his back.
Personality:
 Dango is a fearsome rogue, his lithe body allowing him to move faster. He bears no hesitation when it comes to killing, even if it's his own kin he's slaughtering. He's a snappy and impatient tom with an ego that takes up a whole den. As a mate, he was unfaithful, which is the reason he's never met his daughter, Robinwhisper. Even if he had, he wouldn't be a good father. He'd claw his kit if they didn't follow orders down to the letter. In short, he's an ass.
Skills:
Family:
Littermates/siblings- Ceris (shecat)
History:
   Dango was born into being a rogue, and he's loved every minute of it. He's had multiple mates since the age of 12 moons. Each and every one of them being slaughtered by his own paws. He enjoyed getting them to fall for him and then tearing their hearts from their chest, quite literally. The look of utter betrayal and heartbreak on their faces excited him while he killed them. That was, it did until he met Gloria. 
Gloria was special because she didn't put up with his bullshit, and so he let her live for quite awhile longer. Until he got bored of seeing her breathing, that is. He learned of his daughter in Gloria's dying moments, and he searched for the shecat for many moons so he wouldn't have any loose ends that would come back to bite him. His search was unsuccessful, and so he assumed the cat was dead. 
But one day he saw a shecat with four young cats walking beside her, and a muscular tom on her other side. He had to do a double take, because at first he could've sworn it was Gloria he was looking at. But then he noticed the green eyes and the different shades of color. Infuriated that the little pest had lived, he set out to be the one who killed her, which brought him to joining Onyx's group. 
Last edited by Willowfeather on Thu Jul 20, 2017 2:13 pm; edited 4 times in total
Magnificent Supporter





Posts

: 818


Age

: 14


Location

: America



- - - - - - - - - - - - - - - - - - - - - - - - - - - - - - - - - - - - - - - - - - - - - - - - - - - - - - - - - - - - - - - - - - -
Magnificent Supporter





Posts

: 818


Age

: 14


Location

: America



- - - - - - - - - - - - - - - - - - - - - - - - - - - - - - - - - - - - - - - - - - - - - - - - - - - - - - - - - - - - - - - - - - -
Daisy's Cats:

Dusk-

Littleflower, Hollyshade, Blizzardtuft, Daisyleap, Grassflight, Creampaw

Fire- Redstar, Hawkstep, Stormwatcher, Pebblesplash, Flamepaw, Adderpaw, Barley, Daffodilkit

Water- Nightfoot, Peachcloud, Salmonpelt, Seashell, Flowerbelly, Rosepaw, Shorekit

Bright- Lynxcloud, Oceanspark, Aurorashade, Scorpionbite, Sparrowbelly, Shimmerpaw, Tumblepaw

Frost- Cloverlily, Longpaw, Silverhawk, Scorchwind, Lunarshine, Sleetpaw, Ibispaw, Shellkit

RLK- Min, Peony, Indigo, Slash, Fleur, Blair, Tommy, Bellamy, Shark, Moon
Forum Overseer





Posts

: 6020


Age

: 17


Location

: DuskClan




Similar topics
---
Permissions in this forum:
You
cannot
reply to topics in this forum